Yankee Zulu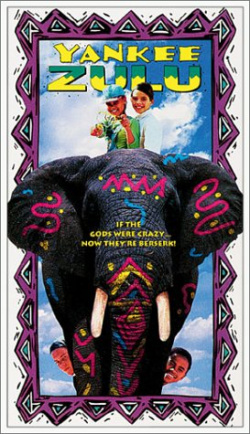 Year:
1993
Country:
South Africa
Actors and Actresses:
Ruan Mandelstam, Bobo Seritsani, Mari Michael
Tags:
boy skinny dip
Review:
Twisting and turning full throttle, 'YANKEE ZULU' is an irreverant mix of slapstick and exciting visual gags - mostly politically incorrect!
The story begins on a remote farm in apartheid torn South Africa, where a special childhood bond has been made between a young black boy Zulu, and a young white boy Rhino - until betrayal and humiliation sours their relationship.
25 years later, Zulu and Rhino are reunited by chance. As fate would have it, Zulu is forced to masquerade as a white man and Rhino is transformed into a Black South African. This role reversal and irrepresible humour leads them from one hilarious disaster to another until finally they rediscover the friendship of their youth.
With relentless torture to the funny bone, 'YANKEE ZULU' grasps the absurd side of life in the new South Africa. - sendit.com
Movie added at:
31.08.2013