Voor een verloren soldaat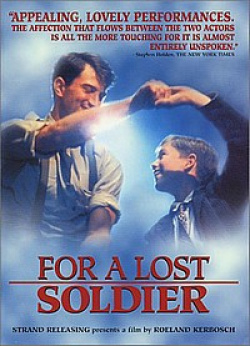 Year:
1992
Country:
Netherlands
Actors and Actresses:
Maarten Smit, Tatum Dagelet, Gineke de Jager, Derk-Jan Kroon
Tags:
bathing boy
,
bathing girl
Review:
Based on the autobiography by Rudi Van Dantzig,
"For A Lost Soldier"
takes place during the end of WW II in the Netherlands. It's the story of a young boy in Amsterdam whose parents send him to live in the country (Friesland) for his own safety. A family who had initially asked for a young girl ends up being young Jeroen's "adoptive" family. Jeroen is coming of age, being the tender age of 12, and is making discoveries on his own, especially his sexuality. He doesn't necessarily understand his feelings at first, until the arrival of the Canadian Liberators in 1945.
One particular soldier, Walt Cook, takes an interest in young Jeroen and a friendship blossoms between the two. Heit, Jeroen's adoptive father, sees that there is more to their friendship than meets the eye, and lets him know that he sees what's going on. This doesn't bother the other soldiers, however. In fact, as other soldiers are courting young girls in the village, so does Walt "court" young Jeroen. The two fall in love with each other, and a sexual relationship does indeed develop.
Perhaps it's Walt not wanting to face the hurt Jeroen will eventually face, but he fails to tell Jeroen that his platoon will be leaving. Jeroen is crushed when he realizes that Walt is gone the next day, and tries in vain as he searches the village for him.
Movie added at:
31.08.2013