Aikurushii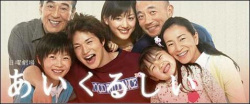 Year:
2005
Country:
Japan
Actors and Actresses:
Ryûnosuke Kamiki, Kanata Hongô, Gotou Kaho, Shiho, Rina Matsumoto, Suzuka Ohgo, Akashi Takei, Mikisuke Haruyama
Tags:
bathing boy
Review:
It's the foundation of humans. That thing is "family." Family relations have become weak, and they say that the "ties" of the good old days have begun to disappear. Even if you try to reform the "ties," you feel embarrassed and worry about what others will say about you expressing your love. The truth is, each and every one of us, deep in our hearts, is aching for familial love.
Movie added at:
31.08.2013