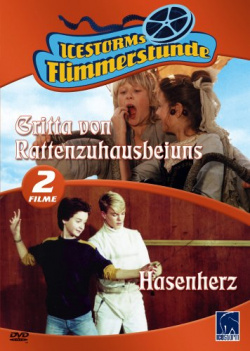 Gritta von Rattenzuhausbeiuns
Year:
1985
Country:
East Germany
Actors and Actresses:
Nadja Klier, Marc Lubosch, Peggy Leschik, Kay Fingerle, Sandra Rogatz, Anna-Laura Sylvester, Anne Wolf, Ilja Kriwoluzky, Claudia Buhmann
Tags:
bathing girl
,
girl skinny dip
Review:
Based on the book
Gritta von Rattenzuhausbeiuns
by Christa Kozik.
A man striving to make a machine for the king marries a woman since, in the long-run, he feels this will better assist him with the invention. Soon, thereafter, the new wife sends the fellow's one-and-only daughter (Nadja Klier), roughly thirteen, to a nunnery. There, the lass learns of a plot against the king and escapes with some other girls in an attempt to warn him. While in route, the land's prince is encountered; he falls in love with our young heroine but must learn to accept that she is also fond of another male peer. A unique, interesting adventure/fantasy made in East Germany shortly before the end of the Communist regime. "Rattenzuhausbeiuns," by the way, is translated "Rats-at-home-by-us."
Movie added at:
25.02.2023