Jutro bedzie lepiej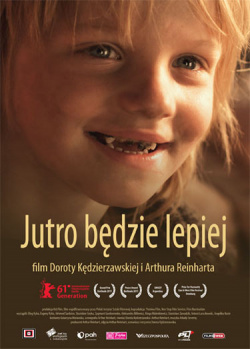 Year:
2011
Country:
Poland
Actors and Actresses:
Jewgienij Ryba, Oleg Ryba, Akhmed Sardalov
Tags:
bathing boy
Review:
This is a stylish and elegantly made drama with a simple plot.
Three impoverished Russian boys (seemingly around 13, 10 and 6 y.o.) plan to escape to a new and better life. They hide aboard a train and head to Poland. The film charts their journey and the cinematography is very impressive, with beautifully filmed rural landscapes. The boys (two of whom are brothers) are full of mischievous enthusiasm - often squabbling and then making friends again as they interact with the various characters they meet along the way. The youngest child is particularly endearing, as he clings to his ragged teddy bear and craves adult affection.
The sad inevitability of the ending is tempered by the boys' unbreakable sprit and loyalty to each other.
Movie added at:
26.09.2013