Le meraviglie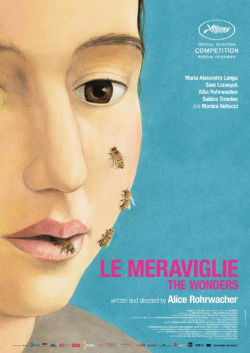 Year:
2014
Country:
Italy, Switzerland, Germany
Actors and Actresses:
Eva Lea Pace Morrow, Maris Stella Morrow, Maria Alexandra Lungu, Luis Huilca, Agnese Graziani
Review:
Gelsomina's family functions according to very particular rules. First of all, Gelsomina, at twelve years of age, practically runs the family. Her three younger sisters obey her and work under her watchful eye. But the outside world mustn't know anything about their lifestyle, and they should be kept away from it, well-protected in their isolated countryside home. Gelsomina's father, Wolfgang, is a foreigner and Gelsomina is the future queen of this strange and improbable kingdom he has constructed for them. A male heir would have been better, of course, but Gelsomina is strong and determined and what's more, she has a special talent for beekeeping and making honey. It's Gelsomina that retrieves the swarms from the trees, who organizes the honey extraction, and she is the one that carries the hives. Whilst all around them the countryside is being burnt up by pesticides, rural life is falling apart and becoming something different, a TV show competition arrives from the city offering a cash prize and a luxury cruise for the Most Traditional Family. "Village Wonders" is presented by the good fairy, Milly Catena. Gelsomina wants to participate in the contest, but Wolfgang won't even consider it. Something else is tormenting him: the new European laws regarding farm produce. If they don't get their honey lab in order, with washable walls and well-defined working spaces, they will have to cease production. They have to work very hard to expand the bee colonies, and get the lab up to standard. In his desperate search for cheap labor, Wolfgang agrees to take on a delinquent German boy, Martin, who comes from a youth rehabilitation exchange program. The tension mounts: between a silent evasive boy onto whom Wolfgang projects his desire for a son, and, counteracting this, the outward reaching force of Gelsomina that will stop at nothing just in order to see the good fairy TV show hostess again. Nothing will be the same at the end of this summer for Gelsomina and her family. An extraordinary summer, when the strict rules that hold the family together, begin to break...
Movie added at:
19.03.2016