Tom et Lola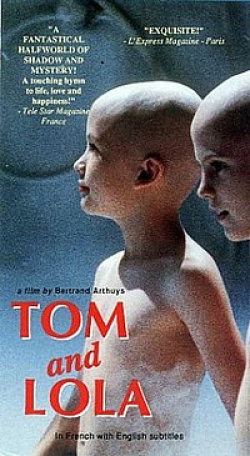 Year:
1990
Country:
France
Actors and Actresses:
Mélodie Collin, Neil Stubbs, Celian Varini
Tags:
bathing boy
,
bathing girl
Review:
Their immune systems tragically damaged, Tom and Lola are a pair of beautiful children isolated since birth in hermetically sealed plastic bubbles. But isolated bubbles and distant hospital technicians cannot inhibit the beguiling spirit and supernatural bond between Tom and Lola , the indomitable protagonists of Bertrand Arthuy's enchanting French fantasy. Objects of endless medical probes, Tom and Lola watch TV and dream of a distant world - of ice and snow, penguins and whales, dogsled rides across the mountainous tundra. Their valiant efforts to breach their suffocating isolation -- a hilarious, often touching quest to reach Alaska -- form the heart and soul of this magical film. Time and again, Tom and Lola outsmart their keepers, escaping to explore a world where wonder and surprises exist around every corner. Miniature fugitives, they elude their captors in a race against time. Superbly mounted, touchingly scored and brilliantly observed, Tom and Lola is a visual treat for anyone who has ever appreciated - or forgotten - the charm and innocence of youth.
Movie added at:
11.03.2023