Greystoke: The Legend of Tarzan, Lord of the Apes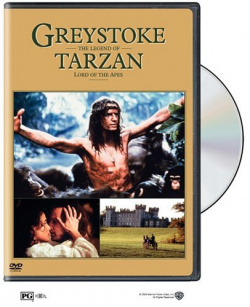 Year:
1984
Country:
United Kingdom, USA
Actors and Actresses:
Danny Potts, Eric Langlois
Review:
Based on the book
Tarzan of the Apes
by Edgar Rice Burroughs.
One of those legendary missed opportunities, Greystoke: The Legend of Tarzan, Lord of the Apes is a movie that should have been great but wound up the victim of conflicting egos and wrong-headed choices. Based on a screenplay by Robert Towne (who took his name off it when he wasn't allowed to direct) and directed by Hugh Hudson (riding high on the basis of Chariots of Fire), the film tried to rethink the Tarzan legend of Edgar Rice Burroughs, and boy, did it have to: By casting French-accented Christopher Lambert as Tarzan, the filmmakers had to transform his white-hunter mentor Ian Holm into a Frenchman to explain those inflections in Tarzan's monosyllabic speech. The film has some amazing jungle footage and a truly touching relationship between Tarzan and the apes--but it gets pretty silly when Tarzan gets to London and hooks up with Sir Ralph Richardson, as his grandfather.
Movie added at:
23.12.2020